Vallarelli Named Girls Co-Director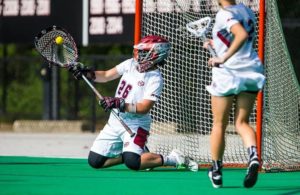 Mike Bocklet didn't have to look too far when he wanted to strengthen the Team 91 Tristate girls' program.
When you're a professional lacrosse player, you tend to have some connections, so asking Rachel Vallarelli to be the one to help bolster the program was an easy decision.
"I've known Rachel for a long time, and there aren't many people who are more qualified than her or that have a more dynamic personality that fits in so well with what we're looking to do as a club," Bocklet said. "I couldn't think of a better person to help Kim DeLorenzo as we continue to improve on and off the field as a club."
This week, Bocklet officially announced that Vallarelli had joined the program as co-director. Her playing résumé immediately stands out, as she is 2nd on the UMass' all-time wins list, holds NCAA, A-10 and UMass records and led the country in save percentage in 2015. She has also been in the U.S. Lacrosse National Team system since 2010, including a stint on the U19 training team. She also plays men's box lacrosse with the Cambridge Nor'Easters, becoming the first woman to play in the IBLA, and is also in the WPLL Player Pool after playing professionally for the Baltimore Ride and Boston Storm.
Vallarelli has coached at the Division I level at Fresno State, Villanova and Wagner and spent last season as the head varsity coach at Greenwich (Conn.). She has coached 10 all-conference selections, two Rookies of the Year and two IWLCA North/South All-Star Game picks, among others.
So, yeah, you could say that this is a huge addition to the program.
"I'm really looking forward to coming in and helping to build the 91 brand," Vallarelli said. "I've known Mike forever and for me to work with him is huge, and one of the things that I've noticed about 91 is that it's a big family, and I'm excited to be a part of it and have it grow. I'm also from Westchester, so being very close to home is great and I'm really excited for it."
Vallarelli has been so successful as a player and coach because of her work ethic and dedication, but also because she prides herself on forging relationships with the players and people that she comes into contact with. It's also rare to find a great goalie coach, so she'll prove to be an asset in a multitude of ways.
"I think that being a goalie is huge and bringing that to the forefront with the club is a much appreciated skillset," Vallarelli said. "More importantly, though, I think it's so important to get to know the kids as people and not just as players. I like to be laser-focused when you have to get things done, but there's also a time to be funny and let your personality show. I like for the kids to see who I am as a person, and having fun is the biggest thing. That's what people want to be around."