Laxin' For One Love Clinic & Fundraiser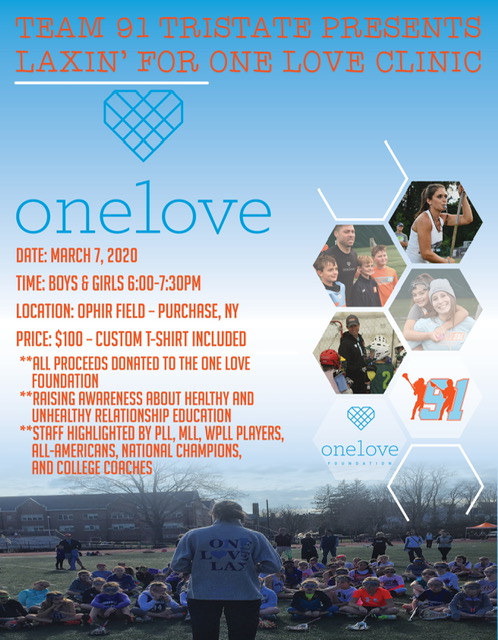 Team 91 and the One Love Foundation have teamed up once again for the 4th Annual "Laxin' For One Love" lacrosse clinic and fundraiser! Our mission is to raise awareness about healthy and unhealthy relationships while providing top lacrosse instruction from the sports best players! All proceeds donated to the One Love Foundation!
Featured Pro Coaches
Rob Pannell - Team USA and All-World Attacker, Rob is a 6x All-Pro, MLL Champion & MVP, Rookie of the Year, Single Season Points Record Holder
Joe Locascio - PLL Champion with Whipsnakes LC, Joe is a NCAA All-American and Championship semi-finalist at the University of Maryland
Mike Bocklet - PLL Chaos attacker, Mike is a MLL Champion & All-Star, and a member of the Fairfield University Athletics Hall-of-Fame.
Casey Bocklet - Inaugural WPLL member with Philadelphia Fire, Casey is a 2x NCAA All-American including 1st Team honors and National Champion
Lauren Murray - WPLL Pride member, Lauren is an All-Big Ten defender leading Northwestern University to four consecutive NCAA tournaments.
Rachel Vallarelli - Pro Outdoor and Indoor player, Rachel is an A-10 Conference Defensive Player of the Year and NCAA Save Percentage Champion.