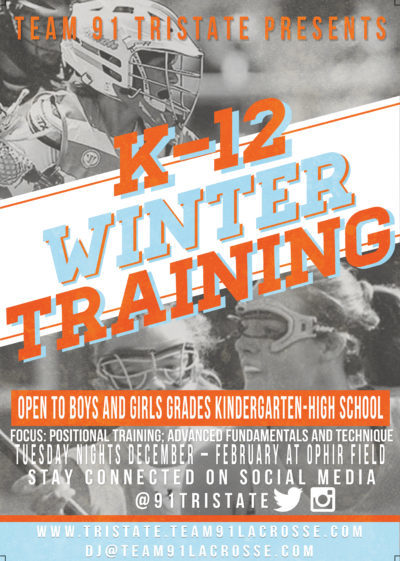 TEAM 91 TRISTATE K-12 WINTER TRAINING
Attendees will join our Tristate players for a fast-paced, high repetition training led by our directors and coaches. Sessions will focus on position-specific drills, fundamentals, and individual skill development. Players will be separated by grade to maximize instruction. Spots are Limited Per Age Group!
*trainings included in all Team 91 Tristate member's tuition
PRO TRAINERS
Sergio Perkovic -  PLL Redwoods LC - Notre Dame All-American
Charlie Cipriano -  PLL Chaos LC - Fairfield University All-American
Lauren Kahn -  WPLL Fire - UConn All-American
Dates: 12/3, 12/10, 12/17, 1/7, 1/14, 1/21, 2/4, 2/11
Times: 5:00-6:00 - Girls Grades K-12
6:00pm-7:00pm - Boys Grades K-7
7:00-8:00 - Boys Grades 8-HS
Location: Ophir Field @ Manhattanville College
Grades K-3 - Fundamentals & Technique - $150
Grades 4-HS - Advanced Skills & Drills - $250
boys director - Mike Bocklet
The founder of the tristate program, Mike Bocklet is an inaugural athlete of the Premier Lacrosse League and current member of the Chaos LC. Previously Bocklet played for the NY Lizards and Denver Outlaws of the MLL where he was an All-Star, Champion, and 100+ goal scorer. The Section 1 All-American played collegiately at Fairfield University where he is a member of the Athletics Hall-of-Fame. Bocklet is the current coach at SUNY Purchase with previous coaching stints at Dartmouth and Cortland.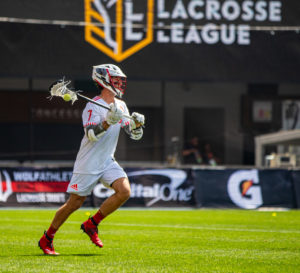 girls director - Rachel Vallarelli
A local product, Rachel Vallarelli has been a member of the Team USA training system since 2010. Vallarelli played professionally with the Baltimore Ride and Boston Storm of the UWLX. Collegiately Vallarelli holds NCAA records for Save Percentage and Goals Against while sitting 2nd All-Time in Wins at UMASS. Vallarelli has coached at the Division 1 level at Fresno State, Villanova, and Wagner. She is the current assistant coach at SUNY Purchase.