Coach Spotlight: Matt Dalton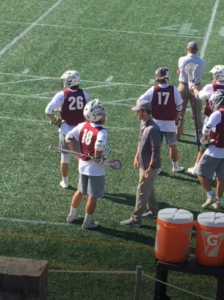 Coach Spotlight: Boys '22 Select and '24 Chaos Coach Matt Dalton
Coaching/Playing background:
Matt is originally from & grew up in Somers, NY, attending Somers High School – graduating in 2011. From there, he attended and played, as a Psychology Major & Long Stick Midfielder, at Springfield College in Springfield, MA from 2012-2015. Following his playing career, Matt began to work his way into coaching. He was fortunate to have the opportunity in 2015/2016 to coach alongside Coach Bocklet at SUNY Purchase College! Coach Dalton also coached that year with his former High School at Somers. In both roles, he operated as an Assistant Coach and Defensive Coordinator. As that year came to a close Matt welcomed the opportunity to go back to Springfield College as an Assistant Coach and Defensive Coordinator, working with them during the 2017 & 2018 seasons. Throughout those couple years he also earned his Masters of Education in Psychology with a School Counseling Degree. This past year, summer 2018-summer 2019, Coach Dalton served in the Assistant Coach & Defensive Coordinator role at Nazareth College in Rochester, NY. Beginning this fall 2019, he is now on staff with the Fairfield University Men's Lacrosse team.
How old were you when you started playing lacrosse and what made you pick up a stick?
I started playing organized lacrosse when I was in 1st grade. I was probably carrying around a stick even before then!
What is your favorite lacrosse memory?
A blend of them all. It wouldn't be right to settle on one memory in particular. The game has been so good to me – it is all the people I have met, played with, played for, and coached that keep my fire to stay on the field going! Building relationships through this game has been the most special experience of my life.
What was your first stick?
I couldn't tell you what my shaft was – I am not much of a "gear head" when it comes to the names/models of the sticks. I believe my first head was a "Brine Cyber." I went to a "Clutch" for much of my HS and early College playing days, but a new model of the Cyber came out towards the end of my College career and I went right back to it!