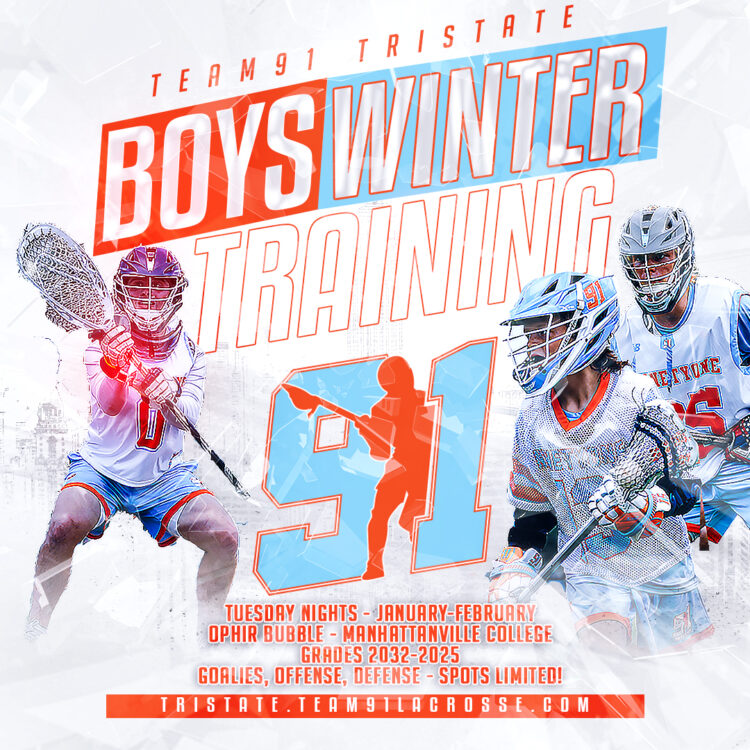 TEAM 91 TRISTATE BOYS WINTER TRAINING
Training sessions for Attack, Middies, Defense, and Goalies! Led by boys training director and LIU assistant coach Kyle Hayes, sessions will push tempo, maximize reps, and focus strongly on individual development. Training included in Team 91 membership. Open spots limited to 10 players per grade.
Location:
Manhattanville College - Ophir Field
Dates:
1/2, 1/9, 1/16, 1/23, 1/30, 2/6, 2/13, 2/27
Time:
6:00-7:00pm - Grades 4-7 (Grad Years 2032-2029)
7:00-8:00pm - Grades 8-9 (Grad Years 2028-2027)
8:00-9:00pm - Grades 10-11 (Grad Years 2026-2025)
Cost: $650
Boys Training Director - Kyle Hayes
A native of New Hyde Park on Long Island, Coach Hayes is currently an Assistant Coach at Division 1 LIU. He previously served as the Head Coach at Manhattanville College, and also had stops at Babson College, Misericordia University and Wheaton College. Coach Hayes also served as an advanced scouting coordinator in the MLL for the Long Island Lizards in 2017 & 2018.