Girls 2019-2020 August Tryouts
REGISTRATION CLOSED - WALK-UPS WELCOMED!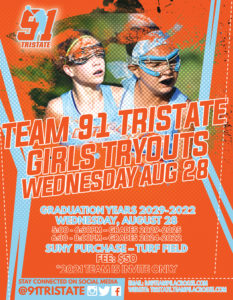 Tryouts are open to all girls 2029-2022 interested in playing travel lacrosse during the 2019-2020 season.
Dates:
Wednesday, August 28th
5:00pm-6:30pm | 2029-2025
6:30pm-8:30pm | 2024-2022
Location: SUNY Purchase | Turf Fields
Cost: $50
What you get: Reversible Pinnie and Shorts
GIRLS COACHING STAFF:
1 PRO PLAYER, 2 COLLEGE COACHES, 5 HIGH SCHOOL COACHES
2021
Emily Considine, Tess McFadden
2022
Nikki Prestiano, Caileigh Lampersberger
2023
Margartet Buhrmeister, Bridget Considine
2024
Kim DeLorenzo, Marianne Kugler
2025
Johanna Mitchell, Lixy Garcia
2026
Aimee Colon, Arielle Rodriguez
2027
Mary Kate Lonegan, Carmella Liscio
2028
Kim DeLorenzo, Casey Hannon
Goalie Training
Rachel Vallarelli
REGISTRATION CLOSED - WALK-UPS WELCOMED
*All returning players: please use discount code: "returningplayer"